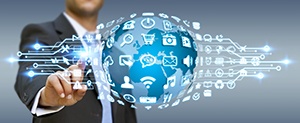 The industry is buzzing about the concept of digitizing the supply chain. Stories flood the media about how companies must digitize, but the process is still in its early years. Only one third of 490 top supply chain executives recently surveyed by Cognizant and Forbes Insights believe their companies have achieved high maturity of digitization of their supply chain in strategy, planning or execution.
...But what does that mean anyway?
Most companies still operate hybrid supply chains of paper-based and IT-supported processes. They work with multiple parties to communicate via a mixed model of paper, email, and phone. Some information is digitized, some remains physical, and most is kept in silos; an inefficient and severely flawed way of operating in a fast-paced environment. But foremost, non-digital supply chains are missing out on significant opportunities to save time, money and resources.
Moving from digitizing to digital
In simple terms, digitizing is creating a digital (the bits and bytes) version of analog or physical things like paper documents, images, even color swatches or product samples. Some companies already have moved their internal teams to digital platforms but stop there, never shifting their strategies to become truly digital across every link in their entire supply chain.