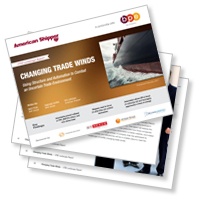 After analyzing the global trade enviroment for decades, American Shipper has released its latest landscape report. Dive into their latest report on the ever changing policies to come in the global trade winds.
From the United Kingdom's Brexit to the United States and the Trans-Pacific Partnership. A new level of variability and uncertainty comes to those in the Global Trade field, especially those assigned to bring the issues of import and export compliance center stage. In this year's GTM Landscape Report - Changing Trade Winds the focus is on the larger issues at hand:
The changing policies in developed economies to a more protectionist stand.
The assignment ahead for those engaged in Global Supply Chains.
How to identify, control, and automate your organization's processes and structure.
In this report, uncertainty can be viewed as a variety of things both positive and negative for either import or export management. This report harnesses uncertainty at its core to be the motivational force for organizations to prepare for the unpredictable. Following the steps listed in this report, a solution to process your organization's data efficiently, unearth new oppurtunities, and provide a team dedicated to help you manage the constant change ahead is on the horizon.
Whether your organization has the tools it needs or to better understand the uncertainty your imports or exports may face in this must read new report by American Shipper.