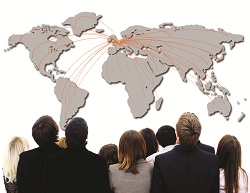 Global trade has an even farther reach than you may realize. For example, did you know...
If the European Union completed all their free trade talks tomorrow, they would increase GDP by €275 billion?

Exports from Asia totaled $6.1 trillion in 2012? That's up 27.9% since 2008… And represents 33% of total world exports.

If you lined up all the containers for Maersk alone, they would stretch 11,000 miles!
View our Did You Know video to discover more incredible trade statistics about China, NAFTA, freight logistics and more, that will leave you thinking about the complex world we live in.


Don't forget to check out our YouTube channel for more global trade videos and insights!