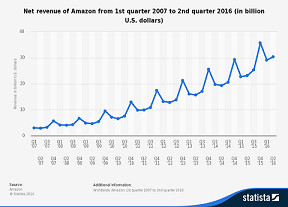 Amazon.com has dominated the eCommerce industry since 1995, originating as an online reseller of books. During Amazon's first month in business, it received orders from customers in 50 U.S. states and 45 countries across the world. Today, the company offers over 183 million products and serves more than 224 million customers.
Growth like this doesn't come without some ups and downs. For example, 37% of Amazon's sales came from international markets in 2014, but have declined in recent years. This has confused investors who wonder what the market share will be in the future. Amazon readily admits it is not properly equipped for cross-border transactions and is working to fix those issues. These are the same problems many retailers face as ecommerce has skyrocketed well beyond anticipated timelines, leaving companies to fall short in their ability to meet customer demands.
To prepare for this type of growth, retailers must understand their customers' need for convenience and remove any obstacles to cross-border commerce. These obstacles include an ever-changing global trade environment, tariffs that vary by country, and the accurate classification of products. To fully address these challenges, it's imperative to maintain timely access to global trade information, master product classification, and comprehensively calculate landed costs at the time of order entry.
For the fourth time in as many months, U.S. aviation safety regulators have proposed a fine on Amazon.com for allegedly shipping hazardous materials by aircraft. According to the Federal Aviation Administration, in August 2015 FedEx Corp. workers at a sorting facility in Cary, IL discovered a leaking package that held two 14-ounce bottles of a flammable, ethanol-based hair tonic. The shipment wasn't packaged or marked properly to show it contained hazardous material, the FAA alleges, and shipping papers didn't provide required details, including emergency response information. Regulators in the U.K. have also charged Amazon this year with similar violations, including an attempt to ship lithium–ion batteries on a passenger aircraft, which are barred from carrying the batteries.
As ecommerce continues to boom, especially internationally, shipping to customers in more countries complicates export compliance and increases regulatory risk. Many exporters struggle to effectively determine license requirements, perform export compliance checks and generate international trade documents.
As evidenced by the Amazon case studies, running afoul of export regulations can result in significant fines, criminal penalties and potential loss of export privileges. Manually conducting a search for license requirements, especially those of foreign governments and agencies, can be time consuming. Automation and trade content is required to ensure compliance. Once identified, exporters have the responsibility to generate and transmit forms to their freight forwarders, customers and appropriate government authorities, and retain audit history.
Whether you are a global enterprise-sized company or SMB, Amber Road's solutions can help. Download our Export Management brochure to learn how you can automate and streamline the export process to ensure compliance.