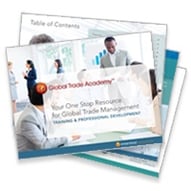 In the rapidly changing environment of global trade, it's an ongoing challenge to stay on top of the current information and resources that are available. On top of that, the demanding schedule of an international trade professional makes it even more challenging to dedicate the time to ­­­refresh your global knowledge. However, at a point in time where global trade is on the brink of an evolution, it is critical to maintain a fluent understanding of all its complexities. That's why Amber Road's Global Trade Academy is your premier source for comprehensive compliance training and professional development.
Designed to meet the needs of busy professionals, Global Trade Academy offers educational and development training courses in the areas of customs and trade compliance, import and export management, global logistics, risk management, and international commerce. Our trade advisory services were crafted by our expert faculty to provide international trade professionals with current information and resources to efficiently and compliantly manage international supply chain operations. Equipped with years of real-world experience and expertise, Global Trade Academy instructors have condensed their vast knowledge of the international supply chain into training solutions that will incite success.
Get The Training You Need From Industry Experts
"We help companies grow in-house global trade management talent through world class training," explains Suzanne Richer, Director of Trade Advisory Practice at Global Trade Academy. "While Amber Road's GTM software and Global Knowledge® content is designed to automate trade compliance checks and optimize global logistics decisions, organizations still require knowledgeable people who understand the complexities of global trade to best implement and utilize Amber Road's solutions. That's the need we fulfill."
Whether you require a course for 5 or 500 employees, for one day or one year, Global Trade Academy's services can be customized to meet your needs. Our training and development programs include certifications, public seminars, specialty workshops, customs house broker (CHB) prep courses, on-site training, e-learning courses, and webinars. Each of our public seminars are registered for continuing education credits with the National Customs Brokers & Forwarders Association of America (NCBFAA).
If you are looking to improve your career prospects through professional certifications, we offer the following courses:
Certified Classification Specialist™ (CCLS™)
Duty Drawback Specialist Certification™ (DBS™)
Export Controls Specialist™ (EXCS™)
Proven Success From Our Leading Customers
In today's global marketplace, success is determined by a trade compliance professional's ability to adapt quickly to the risks of globalization. Through training and certification courses, Global Trade Academy has left its stamp of success on many industry leaders. To date, Global Trade Academy has served as the primary resource for Actuant, Novartis, Pepsico, Unilever, and many other satisfied customers.
For a more in-depth look at how Amber Road's Global Trade Academy can help you and your company excel in global trade through training, certification, or our many other services offerings, download our brochure below!