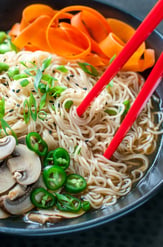 In the early 2000's, bilateral trade agreements started popping up in Asia at a feverish pace. As opposed to multilateral trade agreements, bilateral agreements are negotiated between two individual countries. Although the removal of additional parties alleviates the process of negotiating terms and conditions, this is merely a short-term benefit. The quick fix of bilateral agreements ultimately results in an increased amount of free trade agreements as a means of compensating for unaccounted parties.
By 2013, Asia was muddled with 257 free trade agreements—a conflict that economist coined the "noodle bowl problem." If each trade agreement is considered a noodle, a heaping bowl equates to increased cost of conducting business, welfare losses, and greater inconsistencies between the many elements of each agreement. Within a span of 13 years, the overwhelming emphasis on bilateral trade resulted in a disjointed trade structure all across Asia.
The "noodle bowl problem" isn't contained within Asia; instead it spills over to all global companies involved in Asian or China trading. From a compliance standpoint, becoming entangled in the "noodle bowl problem" is a frightening situation. As companies struggle to take full advantage of Asian FTAs, many have come to leverage technology solutions.
To stay afloat in the complexity of Asian trade, companies must equip their supply chain and global trade professionals with software solutions that address a multitude of challenges: bill of material qualification, certificate management, pre-shipment compliance, supplier solicitation campaigns, and trade agreement identification. By leveraging the proper technology and tools, companies can not only overcome the complexities of managing Asian FTAs but also cultivate additional benefits.
Beyond measures being taken at a business level, a recent report by the Asian Development Bank explains two key proposals to disentangling the noodle bowl: consolidation and multilateralization. Consolidation of bilateral FTAs would create a broader regional FTA, while multilateralization would eliminate any preferential discrepancies by granting nondiscriminatory preferences to its nonmembers. "The ASEAN-led Regional Comprehensive Economic Partnership (RCEP) could pave the way for consolidating free trade agreements under a single regional agreement, although it is still too early to tell."
While Asia slowly attempts to dig itself out of the trade compliance nightmare, the United States takes a different route. The U.S.'s recent withdrawal from the Trans-Pacific Partnership (TPP) was driven by President Trump's aspiration to save the collapse of American manufacturing and contain domestic wealth. In place of the TPP, Trump plans to strategically leverage bilateral agreements with individual countries—sound familiar?
President Trump referred to the TPP as the "worst trade deal ever" but if the "noodle bowl problem" is any implication, the route of bilateral trade may not be the best. An onset issue of Trump's bilateral trade approach is the unlikeliness that he will gain reciprocal interest from the Asian-Pacific region without having to forfeit complete dedication to his "America first" vision.
If you learn one thing from the "noodle bowl problem," it's that bilateral agreements are the carbohydrates of trade agreements: too many are certain to weigh you down. For further insights on the Asian trade climate, the role of ASEAN, or how GTM software can benefit your company, download our new eBook; How to Reap the Benefits of Asian Free Trade Agreements.