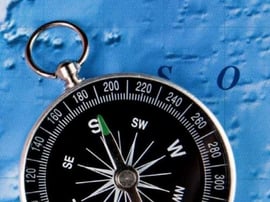 Traditionally, sourcing and logistics/trade compliance operations have been disparate and distinct. But believe it or not, times have changed. Today, there's a straight line linking sourcing to global trade, yet many companies continue to treat these operations in traditional ways.
Although commonly overlooked, leveraging the connection between sourcing and trade is critical for optimal performance in today's global climate. In order to manage supply chains in the current environment, a harmonization of data and functions needs to happen.
Amber Road is proud to sponsor American Shipper's research report, Bridging the Sourcing-Global Trade Divide. Whether you leverage a single digital platform or not, the findings are sure to shock you.

Amber Road and American Shipper's report, Bridging the Sourcing-Global Trade Divide, examines:
The reasons shippers don't use FTAs more
Their biggest concerns about sourcing abroad
The tools they use to incentivize suppliers
The pros and cons of sourcing in various regions

With advancements in technology, the historical separation of sourcing, logistics and trade compliance has grown obsolete. This newfound connectivity enables global sourcing decisions to be made based on available free trade agreements—even when you source from multiple countries. That's why harnessing a supply chain visibility solution will add tremendous value to your global trade network.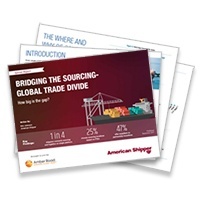 Beyond introducing your souring, trade compliance, and logistics teams, ensure your organization has software in place that supports supply chain end to end visibility. With Amber Road you can assemble a solution that cuts across global sourcing, supply chain risk, logistics and trade compliance processes.
If your company falls in the bucket of the '3 out of 4' that fail to connect sourcing and logistics on a single platform, it's time to transform the way you conduct global trade.
To learn more, download the American Shipper report today!