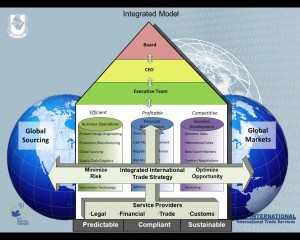 An industry leading organization specializing in window covering was able to save over $6M in duty as a result of having an effective integrated trade compliance strategy. By coordinating NAFTA with organizational processes by use of a compliance champion, the company was able to assign tariff to every item.
This then allowed the organization to have clear visibility of duty payments thus allowing the option of duty recovery for particular items. By integrating a well structured NAFTA program throughout the industry, the organization was able benefit from multiple duty drawbacks and save both time and cost.
Case Analyzed
The message is clear, by using the model of an Integrated Trade Compliance Strategy, this firm created efficiencies in terms of process but also cash management with an integrated strategy that factored NAFTA status and duty drawback for Non-NAFTA related products.
The resulting $6 million savings were a result of their in-house trade compliance champion who oversaw the entire process on imports as well as exports and worked in conjunction with their professional trade services provider to handle the claims paperwork on both sides of the border.
This post was published on December 9, 2010 and updated on May 11, 2018.