Since December, when President Barack Obama and South Korean President Lee Myung-bak announced that they made further progress on the US-South Korea Free Trade Agreement (KORUS-FTA), the agreement has been highly debated on its way to Congress. In order for the measure to take effect, both the Congress of the United States and the Congress of South Korea must ratify the agreement.
On one side, local and national business leaders are urging Congress to approve the agreement, citing the success of NAFTA and its effect on US exports and job creation. President Obama, at the time of his signing of KORUS-FTA, stated that deal would "boost US exports to 11 billion and support at least 70,000 jobs."
Failing to act would hurt the US as well, proponents of the measure argue, as South Korea is in talks with Canada about a free trade agreement and has already inked one with the European Union. If approved, these agreements create a more attractive trading option for South Korean businesses than what the US has to offer, and thus inevitably decreasing the amount of US exports to South Korea.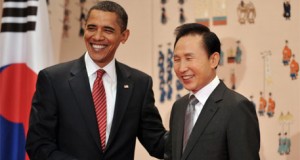 If approved, the US will benefit from the gradual reduction of South Korea's current tariffs of up to 40% all the way down to zero in 95% of industries within three years, with most remaining tariffs being eliminated within ten years. This will obviously aid many trade industries by reducing the cost of trade and opening new opportunities, including the auto industry and the National Cattlemen's Beef Association (NCBA), who, along with 60 other food and agricultural groups and companies, have sent a letter to Speaker of the House John Boehner (R-Ohio); House Democratic Leader Nancy Pelosi (D-Calif.); Senate Majority Leader Harry Reid (D-Nev.) and Senate Republican Leader Mitch McConnell (R-Ky.) in support of the recent agreement.
However, not all businesses and politicians support the agreement because they believe the agreement will actually hurt US businesses and create major job loss due to jobs going overseas. California, one of the US's largest traders with Korea, lost 800,000 jobs due to NAFTA, according to the California Labor Federation, and would likely see further erosion of jobs with another free trade agreement.
California does not necessarily hold the trend for the rest of the US, as it shares the closest ties with South Korea with more than half of a million South Koreans living in the state, and thus is the most vulnerable economically.
Overall, free trade agreements will at the very least increase opportunities for US businesses to increase exports, and will likely save or create jobs as well. The free trade agreement is even more vital if the EU and Canada agreements get finalized, as US cannot afford to fall behind and lose export revenue to the Asian economic giant.
Implementing and maintaining compliance with a free trade agreement is a complex and technical process. Make sure your company takes full advantage of the trade agreement savings by benchmarking your process against 300 respondents across many different industry verticals and revenue size.
Download the Trade Agreement Best Practices Benchmark Study today to learn key insider information related to program management challenges, monetary savings, legal responsibilities, and strategies to help your firm initiate and sustain an effective program.