From the strict controls and highly filtered content, including the famously obvious "Tianneman Square" Google search, to the blocking of hugely popular social networking sites, namely Facebook, China's online censorship has always been viewed as an unjust and uncompromising policy that is likely only to get stricter. However, the advent of social networking popularity and the exponential growth of online transactions (which are often international) has boosted the internet's business value to an unprecedented level, and sparked a discussion of whether China's censorship should be taken more seriously.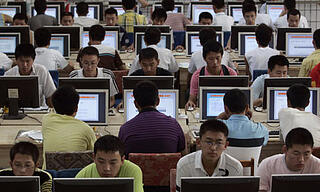 In BusinessWeek's March 9 article, China's Facebook Syndrome, the authors discuss the idea that China's blocking of the social networking site could be viewed as a barrier to trade.
Since 2009, China has blocked Facebook, the world's largest online social media network. This year, Renren, one of China's largest social networks, plans to raise $500 million on the New York Stock Exchange (NYX). So a Chinese social network can tap U.S. capital markets, but American social networks can't tap Chinese consumer markets. Does that sound fair?
According to the article, the idea of internet censorship as a barrier to trade has been floating around since 2007 when the global director of Google presented it to the Office of the US Trade Representative, but has been treated similar to walking on eggshells due to China's economic position, the legal reach World Trade Organization (WTO) trade laws towards censorship, and the unprecedented matter of the situation. The trend is inching towards de-censorship and openness of the internet though; for example a nonbinding clause protecting "cross-border information flows" is a part of the still-unratified Korea-U.S. Free Trade Agreement and stricter language regarding censorship is being "considered" for other future Trade Agreements. Whether this trend becomes actualized with China, however, is up in the air.
Here's the problem: While the USTR has been quietly inserting language in trade agreements, perhaps to cite as precedent in some future negotiation with China, it's playing a game of inches. China's Internet users, some 400 million-strong, make up the largest Internet market in the world, one U.S. social networks are largely prevented from competing in. But if the U.S. moved more aggressively and brought a trade case before the World Trade Organization, it could alienate China, disrupting trade in other products—and the outcome would be uncertain. "They are definitely trade barriers," says James Bacchus, a lawyer at Greenberg Traurig in Washington and a former WTO apellate judge. "Whether they are illegal under WTO trade laws is another matter."
Part of the reason the issue is not headlining is due to the lack of pressure which has been put on lawmakers. While Google has put up a fuss about China's online censorship, it also acknowledges that the issue is about human rights, first. Google spokeswoman, Niki Fenwick, admits "When a government blocks the Internet, it is the equivalent of a customs official stopping goods at the border". The wording of the standard WTO admission agreement, which China signed, does not help either, as it includes exceptions for enforcing national values and protecting public safety. Any push towards a barrier to entry ruling would be met with an argument that censorship protects China's citizens from elicit material such as pornography.
The effort to promote visibility and open trade lanes between Chinese and international web users will not be resolved fully or quickly, at least not anytime soon. However, gradual inch-by-inch progress could be made to loosen policies and laws. Lee-Makiyama, of the European Centre for International Political Economy, states that while "the WTO cannot get rid of censorship", it could compel China to abandoned its worst practices, namely the lack of transparency of censorship policies. With knowledge of China's notoriously socialistic politics and economic power, United States lawmakers looking to at the very least make more of an issue of this must apply necessary focus and pressure to the opening of the internet worldwide.