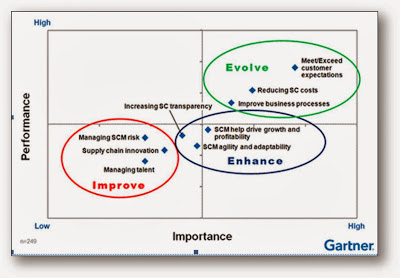 Changes in geography, commodity prices and political commotion are shifting the way retailers and brand manufacturers do business. The focus for brands continues to be on being agile and highly responsive to the market demands and choosing those partners that can provide the highest quality at the best price and terms. These changes in the supply chain have created an environment in which risk mitigation is driving the industry and competition, thus requiring tighter collaboration across the supply chain.
According to Gartner's SCM experts, retailer leaders have more than one factor to prioritize in the coming year (see image).
But what the Gartner Quadrant report doesn't show is the connection between each of these factors and how they are reliant on one another. For instance, if risk and innovation are not "in focus" then a brand can't meet/exceed customers' expectations.
Looking into 2014 and beyond, technology will continue to play a pivotal role in transforming all of these priorities into actions. Global trade has been growing by an average of 9.5 percent a year for more than six decades, according to a recent Cushman & Wakefield white paper, "The Changing World of Trade," which predicts by 2021, the total global trade figure could reach $45 trillion. Retailers who can get the "secret sauce" right have endless opportunities for increased potential. Those who take advantage of available technology will no doubt reap the benefits of this exponential growth.

Winning global trade strategies will demand flexibility, diversity, scalability, real-time collaboration and automation. If there is one word for the future of supply chains in 2014, it is "one"—one central platform/repository to collaborate and share information online and across the organization and its channels. Companies will continue to seek out processes and solutions that:
enhance deeper collaboration and communication with partners,
facilitate centralization of information across their supplier base and other providers, departments and functions within an organization,
and eliminate the need to manage data in Excel spreadsheets shared through email and other silo-ed systems.
Cloud-based technologies (like ecVision Suite) allow for partners across the globe to log into the same system (with manageable and limited access and security) to enter the data. This saves time and money, and reduces the likelihood of errors. These solutions will also help companies manage the complex regulatory filing and documentation needs, with partners specific to each country in virtual real time, as if they were right next door.

Smart technology and mobile capabilities offer the promise of improved supply chain management, compliance, partner relationships and cash flow. And, as technology continues to make international trade possible for developing countries, competition and opportunities will also rise. Companies that don't want to be left behind will need to rely on strong, tight-knit collaboration with trading partners online.

Having one centralized, cloud-based technology platform enables manufacturers and their partners to store and share data, and also take advantage of, and manage, programs such as Foreign Trade Zones, free trade agreements, customs classification, product testing, corporate social responsibility and sustainability initiatives.

A centralized platform allows companies to effectively manage data for all their clients, as well as handle different transactions and entries for customs, whether in Timbuktu or China.

These platforms will also reduce weak links in the supply chain and fuel real-time collaboration with partners. In today's evolving global marketplace, web-based tools can help companies choose partners to meet their ever-changing market demands easily, while maintaining secure transactions and partnerships by limiting access to relevant information.

In order to remain competitive, companies must continue to embrace Next-Generation platforms and capitalize on this technology shift.
Learn more about ecVision's Next Gen solutions here and downloading any of these whitepapers.