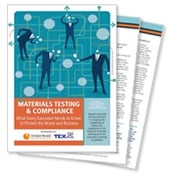 Today's supply chains are increasingly complex. Apparel companies must be proactive in managing the complexities of testing and compliance to avoid the risk of losing far more time and money on the back end when reacting to problems.
Apparel Magazine recently published the Executive Guide to Responsible Global Production, Part II which features a roundtable discussion including Amber Road's Gary Barraco, Senior Director, Supply Chain Solutions. In this discussion, Gary provides insight into the complexities faced within today's retail environment, and further touches on the approaches executives can take to ensure compliance throughout their supply chain operations.
The report, Materials Testing & Compliance: What Every Executive Needs to Know to Prtect the Brand and Business, takes a closer look at:
Complexities of materials testing and compliance
How to avoid supply chain disruptions
The importance of QC
Recommendations for supply chain success
Download your complimentary copy of the report to learn how you can optimize supply chain operations and further protect your brand.

Want to learn even more about how to manage risks? Check out our white paper to discover the strategies your organization can employ to minimize supply chain risks.
Executive Guide to Responsible Global Production, Part II
This post was published on July 13, 2015 and updated on February 1, 2016.