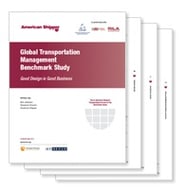 American Shipper in conjunction with the Council of Supply Chain Management Professionals (CSCMP), the National Retail Federation (NFR), and the Retail Industry Leaders Association (RILA) has published the 2015 Global Transportation Management Benchmark study after surveying 191 qualified global logistics practitioners from mid-March through late April. The focus of this seventh annual study is placed specifically on the stages involving planning through event management and the visibility into each leg of those processes. In particular, the trends that impact how shippers and logistics service providers manage their international freight transportation processes and the technology that helps support those processes.
Global transportation management is a broad term that covers "the full cycle of transportation activity, including procurement, planning, order management, tendering, event management and financial settlement," according to Eric Johnson, research director at American Shipper. As a result, it has moved beyond the "nuts-and-bolts function for many shippers and LSP's – it is the hub around which these companies orient other key supply chain processes."
Discover global transportation management processes, supplier visibility, design capabilities and technology usage from 191 shippers and third party logistics providers, including the following critical issues:
How the market defines visibility relative to the last two years
The most difficult modes to attain visibility
The importance of network design to transportation management
Transportation costs incurred due to West Coast port congestion
Top benefits and challenges of using a global transportation management system
The ability of TMS to optimize across modes and regions
Find out whether transportation managers use network design tools to enhance their execution and their perspective on the importance and difficulties in getting visibility across modes and regions. Download the complimentary report today!