Conducting international trade can be chaotic. Fluctuating tariffs, duties, and free trade agreements, expanding multi-tier supply sources, new international trade rules, and much more, constantly trigger heavy ripple effects along the entire retail supply chain. The advancement of technology, specifically supply chain digitization, allows full visibility into your design, global sourcing, manufacturing, trade compliance and shipping functions, all united in one central location: The Control Tower. But many organizations are still needlessly hesitant to adopt these rewarding advancements.
Global trade is not going to become any less complex, and when you already have the deck already stacked against you, the time to take action is now. The Apparel Magazine Report: 5 Steps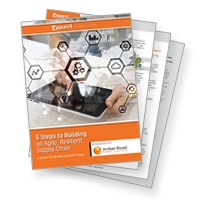 to Building an Agile, Resilient Supply Chain details how to best deal with the tumultuous nature of your global supply chain by:
Digitizing your internal data and processes
Onboarding suppliers to the digital model
Incorporating shipping partners
Integrating all data into your supply chain control tower
Analyzing your new wealth of data
The report breaks down each step to show the clear benefits of a digitized supply chain and how you can implement these changes to achieve maximum productivity, including case studies of companies who have made the digital switch. Discover how you too can have an agile and resilient supply chain - download the report today!
This post was published on March 22, 2019 and updated on March 22, 2019.