As global trade continues to grow in complexity, the demands on supply chains are only becoming greater. With the emergence of new transportation technologies in tandem with regulatory and geopolitical shifts, developing a comprehensive global supply chain strategy becomes increasingly more difficult. In the midst of the Fourth Industrial Revolution, it is critical for organizations to stay ahead of the global trade challenges stacked against them.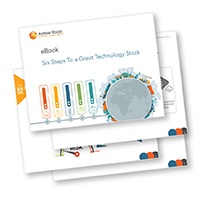 Building the right technology stack can provide substantial competitive advantage to your company. In stark contrast, the wrong one can cause under-performance and the downfall of your supply chain processes. From blockchain to artificial intelligence, IoT to machine learning – what technologies should your company consider?
Amber Road's eBook, Six Steps to a Great Technology Stack, illustrates how your organization can leverage digital connectivity by choosing the right technology stack. You will also learn how to:
Similar to the industrial revolutions in the past, Supply Chain 4.0 requires the use of technology and process innovation to streamline global trade. The future of global trade is now. It's time to build a strong value chain and reap the benefits of digitization - download this eBook today and learn how to build the right technology stack in six simple steps!
This post was published on April 3, 2019 and updated on April 3, 2019.