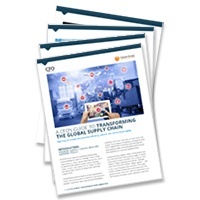 As CFOs move beyond traditional accounting responsibilities to take on strategic roles in their organizations, many realize that they must do more to optimize their global supply chains. The solution? Implementing a digital model of the global supply chain to better share, process, and analyze information.
Amber Road partnered with CFO Magazine to construct a blueprint for transforming global supply chain management processes through digitization. The resulting white paper, A CFO's Guide to Transforming the Global Supply Chain, discusses how digitizing the supply chain can help create cost leverage and efficiency through automation. Topics include:
The challenges of current processes

Strategies for collaborating, enabling data reuse, reducing errors, and facilitating better communication

How automation can be used to create efficiency and increase profits

How data analytics can unlock value and provide a continuous improvement process for the supply chain

A look ahead to the future of the digital supply chain
It's time to gain control of your global supply chain - download this white paper to learn how you can create a high performing global supply chain to enable supply chain visibility, flexibility, and control, which leads to efficiency, reduced risk, and agility!