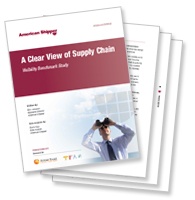 For years, American Shipper has gauged how the shipping industry views supply chain visibility. But never before have they benchmarked this discipline in its own right; that time has come.


In their brand new report, A Clear View of Supply Chain: Visibility Benchmark Study, American Shipper examines how shippers get their visibility, what they do with it, its biggest benefits, and where it falls short. The report also includes perspective from logistics providers on the value of providing and consuming visibility. Highlights include:
The number of visibility milestones shippers track, and what they consider to be the most important ones

Biggest visibility blind spots

The internal systems feeding shipper visibility, and the processes into which shippers have visibility

Whether 3PLs have an understanding of their cost to provide visibility

The means by which shippers and 3PLs get visibility, and much more
Whether you have visibility, are looking to get it, or just want to know where you stand, this new report from American Shipper is a must-read for supply chain practitioners of all types.