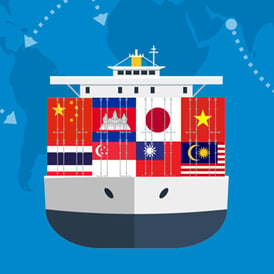 Free Trade Agreements (FTAs) facilitate access to international markets by lowering trade barriers and providing cost-saving advantages at the same time. Despite Asia's importance for European foreign trade, agreements with Asian countries are not progressing quickly. For example, agreements with Singapore concluded in 2014, South Korea in 2015, and Japan on February 1, 2019. This year, signatures on an agreement with Vietnam should allow it to move ahead.
The EU-Vietnam Free Trade Agreement (FTA) and the EU-Vietnam Investment Protection Agreement (IPA) were presented for signature by the European Commission to the European Council on 17 October 2018. They will enter into force as soon as the Council and the European Parliament have approved it. However, the IPA still needs to be ratified individually by the EU Member States following its approval by the Council and the European Parliament.
Vietnam at Our Doorstep
The FTA with Vietnam is the most comprehensive agreement the EU has ever entered into with a developing country. In addition to the liberalization of trade in goods, services, and investment, it includes rules for the dismantling of non-tariff barriers, for sanitary and phytosanitary measures (SPS), intellectual property protection (IPP) including geographical indications, as well as for procurement, regulatory issues, competition, and sustainable development.
Under the agreement, Vietnam agrees to abolish almost 99% of its customs duties on goods from the EU within the next 10 years, with a 65% liberalization as soon as the Agreement enters into force. The EU will, in turn, do away with its customs duties on imports from Vietnam within the next seven years. From now on, the tariff quotas would only apply to a few agricultural products, such as rice, maize, garlic, mushrooms, sugar and products with high sugar content, manioc starch, surimi, and canned tuna.
The FTA also allows EU companies to submit for public contracts with Vietnamese government departments, the leading state-owned companies, 34 public-sector hospitals and with Hanoi and Ho Chi Minh City, the two largest cities in the country.
The IPA is expected to replace the existing 21 bilateral investment treaties (BITs) between Vietnam and the EU member states. The new agreement encompasses all aspects of the EU's modern approach to investment protection, as well as related implementation mechanisms.
Following on from the FTA with South Korea, the EU is counting on the FTA with Vietnam to generate a significant increase in bilateral trade. Exporters of machinery, electrical and electronic equipment, pharmaceuticals, vehicles, and aircraft especially are looking forward to increased opportunities.
The EU-South Korea Free Trade Agreement
The EU-South Korea FTA has been in force since 2011 and officially ratified in December 2015. Since its approval, nearly 98.7% of customs duties have been abolished, leading to several millions of dollars in savings for both exporters and importers. Trade between the EU and South Korea has grown considerably, particularly in the automotive and pharmaceutical sectors, as well as in the consumer electronics sector. Under the FTA, South Korea now accepts many European standards as being equivalent to its own. The reverse is also true. For geographical indications on brand products such as Champagne, Prosciutto di Parma, Feta, Rioja, Tokay or Scotch Whisky, the agreement ensures a high level of protection.
While the initial rules have been simplified, strict rules are nonetheless being enforced for sensitive sectors. For vehicles, the quota of allowed imports has increased from 40% to 45%. For textile, agricultural and fishery products, the original standard rules of the EU are retained with some minor changes.
The Agreement Remains Largely Under-Utilized
Despite its track record, the FTA's potential is yet to be fully utilized. According to a European Commission study, 35% of EU companies that have so far exported to South Korea have not yet asked for preferential treatment in the form of reduced tariffs or other advantages.
For many companies, one of the main obstacles to making the most of preferential agreements is establishing the country of origin for all imported and exported goods. This step is not only time-consuming, but it also requires problem-free interactions between the internal teams in trade compliance, procurement, and logistics departments, as well as the supplier base.
For example, if a company's purchasing department switches from using suppliers in France or Germany to buying from more cost-effective suppliers in China or another region, the compliance department must be informed of any resulting changes in country of origin. Price, production, or exchange rate changes may lead to changes in country of origin. If such calculations remain unchecked regularly, companies risk making incorrect declarations, resulting in them incurring retroactive payments of customs duties and substantial fines.
Digitization is Unavoidable
In many market segments, FTAs also provide a fully duty-free environment. However, the gradual removal of customs barriers over several years, as well as of rates and quotas can be challenging for companies. Many software providers offer cloud-based solutions for international trade management and customs processes for companies that integrated with existing ERP systems. These solutions simplify the implementation of international trade under economic and free trade agreements while ensuring regulatory compliance.
The continuous digitization of import and export processes makes collaboration with trading partners, customs authorities and partners more transparent. However, what drives investment above all is increased profitability in the implementation of business transactions, and the use of preferential agreements. The digitization of supply chain processes provides an opportunity to increase productivity, compliance, and turnover while reducing import and export costs. Today, digitization is no longer just one option; it is a vital necessity.
This post was published on April 22, 2019 and updated on April 24, 2019.