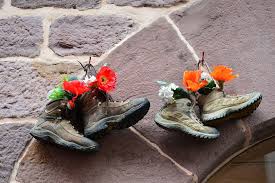 Instead of a trick this Halloween, the footwear industry got a big treat as the US Congress put its best foot forward to provide duty-free access for some footwear products through the Generalized System of Preferences (GSP) program. As part of the proposed GSP Footwear Act of 2017, outdoor footwear, low-cost rubber sole shoes with textile uppers, and slippers could be considered for duty-free savings. In particular, imports of protective active footwear, like certain hiking, trekking and running shoes could see the elimination of existing duties which are as high as 20%. If approved, the industry gains an estimated $57 million per year in duty savings. Certain footwear not produced domestically would be eligible to be added to GSP for the first time since the program was enacted over 40 years ago.
Established by the Trade Act of 1974, the GSP program benefits poor and developing nations. This has opened access to source tax-free from many countries, including Brazil, India, Indonesia, Cambodia, Bangladesh and others. GSP also directly benefits American workers, consumers, and businesses by maintaining a flow of imported goods and spurring additional sales through better pricing.
Well-Walked Path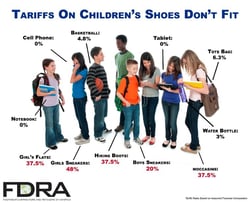 Unbeknownst to many consumers, US footwear imports carry one of the highest duty rates – higher than cell phones – yet are more essential to fitness, worker safety and children's physical development. The duty rates haven't been updated since the passage of the Smoot-Hawley Tariff Act of 1930, enacted during a time of US protectionism following WWI. Smoot-Hawley set high tariffs on hundreds of products. Over the years, many of these rates have been reduced to more reasonable levels or eliminated altogether. Footwear tariffs, however, remained largely untouched.
Today, nearly all of the footwear Americans purchase is imported, so there is no need to protect a non-existent, domestic shoe industry with trade legislation. Yet tariff tax rates between 37.5% and 67.5% on imported footwear are still in place.
Lacing Up
With the year-end approaching, Congress needs to renew the overall GSP program before leaving for recess. The footwear industry is working diligently to get its products included in the GSP renewal.
The industry is tasked with proving there's little domestic production of these categories of footwear and that the US industry won't be harmed by the move. Trade experts don't think it will be a hard case to make, but President Trump's trade talk might sway some legislators. Provided things go according to the general plan and footwear gets included in this year's renewal of GSP (and that GSP does in fact, get renewed), more action needs to take place before importers can realize these savings. For instance, changes to other import regulations would need to be made, like HTS classification, in order to facilitate the tax exclusion.
Amber Road's supply chain management solutions enable companies to manage all their trade preference program within one centralized and common platform. Trade Agreement and Trade Preference identification and qualification in Amber Road's solution is powered by its Global Knowledge® database of global trade content, which contains the rules of origin, product classifications, and duties and taxes for the major trade agreements. Since the Trade Agreement module is tightly coupled with the Export and Import modules, the "reduction of duty" benefits are seamlessly integrated with the global supply chain execution processes.
Learn more about duty management using automation by clicking here.
This post was published on November 8, 2017 and updated on November 8, 2017.