Since the Great Recession of 2008, global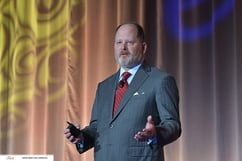 trade has remained flat while e-commerce has increased 20% per year. While the disruptive force e-commerce has on the economy appears most prominently in the retail sector, this latest digitalization of trade will continue to change industry trade patterns and product distribution for years to come.
Later this month, the AAEI 96th Annual Conference & Expo in Austin,TX from June 20-22 will address the impact of new technology and its role in marketplace expectations, especially in building frictionless trade.
Amber Road is pleased to have our very own CEO, Jim Preuninger, present an opening keynote to address the explosion of e-commerce, the decrease in brick-and-mortar sales, and how companies can strengthen their competitive advantages in global trade.
Late in December 2016 and January 2017, AAEI and Amber Road conducted an online survey of global trade professionals: manufacturers, shippers, logistics providers, and other related service providers. The intent of the study was to provide a snapshot of e-commerce today and the impact the colossal growth of online sales, especially cross-border online sales, has on retailers, manufacturers, shippers and others.
In addition to addressing the key building blocks for a successful e-commerce infrastructure, Jim will discuss the results of the survey, which support the global shift from brick-and-mortar retail to e-commerce.
After you hear Jim's keynote, don't forget to stop by booth 10/11 to learn more about how Amber Road can strengthen your supply chain infrastructure for e-commerce.
See you there!
This post was published on June 8, 2017 and updated on June 8, 2017.