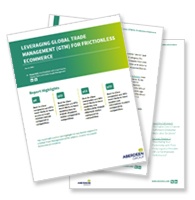 As globalization continues to cause the world to "shrink" and eCommerce rapidly spreads into every retail category, the requirements to source and manage a global supply chain also increase. Whether as part of its strategic direction or in order to keep up with the competition, there are few companies that do not have some type of eCommerce presence.
In this report, Aberdeen Group examines and highlights the key factors required in a Global Trade Management (GTM) solution, in order to support frictionless eCommerce.
Key factors include:
Total landed cost calculation capabilities
Online access to trade-related content
Seamless exchange of communication and documentation with customs and brokers
Automated denied, restricted, sanctioned party screenings
Compliance to security regulations/programs such as PIP and AEO (includes supplier evaluation)
Transportation and visibility capabilities
To learn more, download a complimentary copy of the full report, Leveraging Global Trade Management for Frictionless eCommerce!
To get all the data points that highlight the GTM capability advantages that the best-in-class companies have compared to their competition, check out the infographic, Best-In-Class Global Ecommerce Trade Management Capabilities Compared to All Others.
This post was published on April 12, 2016 and updated on September 16, 2016.