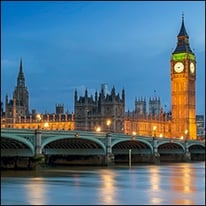 Last month, Amber Road's Global Trade Academy hosted the webinar Navigate the Post-Brexit Landscape: Achieve Authorized Economic Operator (AEO) Status. With Brexit around the corner in March 2019, your company must have the proper trade compliance processes in place to navigate the post-Brexit landscape.
As the webinar presenter, Suzanne Richer, Director of Trade Advisory Practices at Amber Road, contributed her expertise to the topic. From AEO in the global and UK context to an overview of the Certified Authorized Economic Operator (CAEO™) Specialist Program, Suzanne touched on some of the hottest points of interest. However, when discussing such an in-depth topic, questions are bound to arise.
In this blog, Suzanne responds to the questions we received from the webinar attendees that weren't addressed during the broadcast.
1. Do current AEO certified members retain the same status? Or is there a "resubmission" based on changes?
The AEO certificate is generally valid for a 2-year period, and members must submit the monitoring report every 24 months, to remain members of the program. Upon review and acceptance, the company's AEO certificate will be reissued for another 2-year period, though all companies must remain vigilant in their program at all times.
2. If AEO is governed by European Community law, what assurance do we have that UK-AEO will remain in a post-Brexit environment?
The AEO program is an accepted mechanism to achieve customs simplification within the EU, which affords a company many benefits including simplification for regular shipping services and centralized clearance where more than one-member state is involved. With the Brexit date only one year away, it is anticipated the UK will negotiate a recognition of partners for customs clearance purposes through the AEO standard.
AEO, through its standards and review processes, ensures members are following a strong set of compliance and/or security and safety mechanisms, depending on which AEO certificate was awarded (AEO-C or AEO-FS). Members earn the right to be recognized as lower risk trade partners. Without this recognition, UK companies following Brexit may encounter great difficulty in entering the customs territory of the EU, and face delays at the border.
3. One chart showed AEO certifications in the UK as 624 companies, another chart showed the UK companies certified as 1000+, which is correct?
The first slide shown indicates the number of UK companies participating in AEO, while the second slide captures those in AEO and applications pending.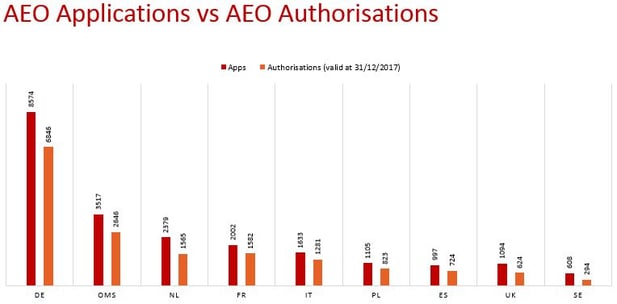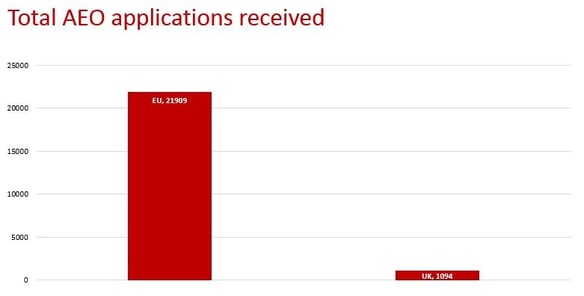 4. Will Amber Road offer a classification course in the UK again?
Yes, look for our updated summer to fall schedule in early March, where CCLS and similar customs programs for valuation and AEO certification will be listed.
5. Will Latin American AEO's will be recognized at the UK?
The UK is focused on the plan for an effective and efficient withdrawal from the European Union, and they face a March 2019 deadline date to achieve this. It is widely anticipated they will seek to align themselves with partners globally, especially through the AEO membership platform. Updates should be expected throughout the coming year as the UK works with global partners to achieve this next phase.
6. If your company is ISO 2015 Certified, would that help with the AEO certification?
ISO certification is an internationally recognized standard, and each standard has its own benefits within every industry. ISO along with many other programs such as Sarbanes-Oxley Compliance (SOX), Food Safety Modernization Act (FSMA), C-TPAT certification and the like all support the foundation of an AEO certificate. Ideally, you may want to start by outlining how many different programs you already participate in that support the AEO program.
Your team should be capable of explaining how your ISO 2015 certification directly correlates to an AEO standard, whether through recordkeeping, documentation control, or an internal review process. Similarly, explore your ISO certification to know which operations of your company are included in your ISO certification and which are not. This will provide a baseline from which to plan when considering AEO certification.
If you're located in the EU and interested in gaining a detailed understanding of the AEO program and how to effectively plan and design, implement, maintain and sustain AEO certification – stay tuned for our upcoming course dates!
If you'd like to learn more, you can contact Suzanne Richer directly at suzannericher@amberroad.com. For future webinars, check out our upcoming webinars page.

This post was published on February 21, 2018 and updated on February 21, 2018.