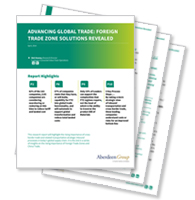 Recent AberdeenGroup research found that Foreign Trade Zones (FTZ) and free trade agreements (FTA) offer the most direct and significant duty and tariff reduction opportunities. In fact, 57% of companies claim that they have, or will build, FTZ capabilities into their global trade functionality to support global transformation and reduce total landed costs. Isn't it time you took advantage of FTZs as well?
Aberdeen's newest report, Advancing Global Trade: Foreign Trade Zone Solutions Revealed, highlights the rising importance of cross-border trade, reshoring, and FTZ solutions in today's global supply chain. Key themes include:
The strong correlation between FTA/FTZ automation and superior supply chain performance
Mission-critical features and functions required of an FTZ solution
Five key process steps you should take to join the FTZ leader ranks

Download this complimentary report to learn how you can achieve superior supply chain performance with an FTZ solution!