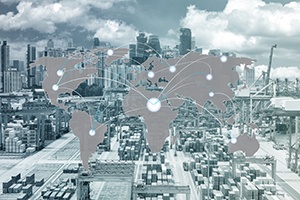 CSCMP's EDGE Supply Chain Conference this year explored cutting-edge supply chain solutions with top industry leaders. Amber Road sent several of our own supply chain thought leaders, who have shared their most transformative takeaways from the conference.
Check out their reflections from the event:

Stephanie Miles, Senior Vice President of Commercial Services at Amber Road, spoke on the panel 'Women at Work.' The session was sponsored by Penn State Executive Programs and as a Penn State alumnus, and Senior Vice President, Stephanie had a lot to contribute:
"I enjoyed being a panelist on the 'Women at Work' series and making new connections with women who are rising stars or already shining stars in their supply chain careers. Always great to be a part of a session sponsored by Penn State. We Are!! I was also super impressed by the musical talent of the CSCMP staff and members. What a fun welcome reception with the live band and 'everyday' CSCMP people as rock stars. Hope to see more of that in the future!"

Suzanne Richer, Director of Trade Advisory Practice at Amber Road, was a panelist on 'Benchmarking Order Fulfillment Best Practices.' After the conference, Material Handling & Logistics' mentioned Suzanne's contribution in the article 'Are You In It to Win It?' It highlights Suzanne's quote during the session, "How well prepared are you to win in the e-commerce game?" in which Suzanne referenced Vince Lombardi a legendary NFL coach in the context of modern supply chain circles. As a CSCMP veteran, Richer reflects:
"It was wonderful to attend and speak at CSCMP 2017! Our track focused on challenges and best practices for order fulfillment. As e-commerce sales dominate certain markets, the challenges in order fulfillment have changed dramatically over the past few years. A big part of the process is concerned with the customer experience from order through to receipt, which includes the ability to return an unwanted purchase as quickly as it was received. Thus, e-commerce supply chains have to be agile in providing for a reverse logistics strategy that emphasizes ease of use to ensure customers will remain loyal. Amber Road's e-Commerce Benchmark Survey done in conjunction with AAEI outlines these findings and many more. Check out our resource library for a copy to better understand how e-commerce is changing the way the world does business globally."

As a conference track chair, Gary Barraco, Director of Global Product Marketing at Amber Road, sat in on all of the research & survey sessions. Here's what he has to say:
"As track moderator for this year's research and studies sessions, it was no surprise that every speaker approach supply chain topics with a "digital" mindset. Logistics, transportation, warehouse operations, and sourcing executives all clamored to learn more about the effects from digitization. At the end of the two days, I realized that the digital supply chain really is a new concept and that organizations of every size have yet to realize the value it brings. Blockchain is the technology buzzword of the year, but I think it will soon pale as digitization reigns supreme with greater long-term potential. My feeling is that digitization is still misunderstood. (For that matter, blockchain is too.) In order to frame the whole "digital" transformation, simply think about the way business would be today if we stayed analog. Then compare the same processes again, with a digital approach. It's easy to realize the value derived when you put them side-by-side."
Jeff McCaulou, Solutions Consultant at Amber Road, echoed Gary's comment, "There were a lot of speakers on blockchain, but most of them were really about digitization and not actually the new model of data sharing and security promised by blockchain."
Beyond participating as speakers and moderators, Amber Road's thought leaders divulged their knowledge during video interviews with SupplyChainBrain. Between Stephanie, Suzanne, and Gary, topics covered everything from 'Logistics Network & Digitization Best Practices,' 'C-TPAT Updates,' to 'Going Digital.' Stay tuned for the finished products in the upcoming weeks!
Amber Road looks forward to a continued relationship with CSCMP. As more and more supply chains adopt digital processes we're excited to see where the conversation leads in 2018.

This post was published on October 23, 2017 and updated on October 23, 2017.