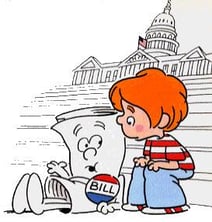 "I'm just a bill. Yes I'm only a bill. And I'm sitting here on Capitol Hill."
Over 40 years ago, a Saturday morning TV show called Schoolhouse Rock uniquely taught children (and adults) how the US government passes new laws and legislation in a lyrical cartoon with a catchy tune. Even in this animated lesson, the tremendous complexity of laws, regulations and directives is obvious. Yet most of us are challenged daily to negotiate mountains of legalese in order to conduct business.
In a new benchmark report produced by USFIA and Dr. Sheng Lu of the University of Delaware, executives ranked compliance with trade regulations among their top three concerns as they finish out 2016 and prepare for next year - an increase from the 2015 survey.
Companies engaged in global trade must manage a tremendous amount of information to establish and maintain compliance with regulations. This global trade content includes the harmonized tariff schedules (HS) to classify goods, the duty rates needed to calculate landed cost, and the controls that determine whether you can legally complete your transaction. In the report, executives noted trade compliance in the top three areas of concern for business continuity and disruption.
On Wednesday, July 13th, Amber Road will join the US Fashion Industry Association (USFIA) on Capitol Hill for Trade is Fashionable!, a trade symposium which will bring together politicians, policy makers, educators, and experts on trade and commerce to discuss a range of topics with apparel and footwear companies.
At the event, Anthony Hardenburgh, VP of Global Trade Content at Amber Road, will discuss how to leverage technology to overcome the obstacles of regulatory controls. One key feature of a strong compliance platform is access to a comprehensive, robust database of global trade content and international business rules, such as Amber Road's Global Knowledge®. Amber Road employs hundreds of trade professionals to maintain this data by monitoring hundreds of regulatory sources, including personal contacts with government agencies around the world in more than 30 languages and more than 147 countries- roughly 95% of world trade. It collects and maintains content that's often unique to products, transportation, storage, usage and more. In 2015, the content team updated the data 13 million times. In Anthony's session, "Overcoming the Mountain of Trade Regulations", Anthony will focus on the number of US and other country regulations affecting global trade, how often they change and how to be prepared for these changes, what the potential impact on supply chain operations.
Don't miss this opportunity to learn how technology and trade content can help your company establish and maintain compliance with these government regulations – Register Today!
Click here to see the full agenda!
This post was published on June 28, 2016 and updated on July 15, 2016.