March 2nd, 2016 marked the one-year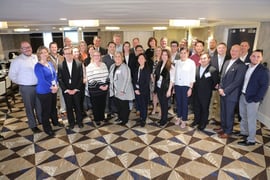 anniversary of Amber Road's acquisition of ecVision. In the last year, we have made significant strides integrating our new Supply Chain Collaboration (SCC) solutions, into Amber Road's Global Trade Management (GTM) suite and are excited about all of advancements to come.
Continuing ecVision's tradition of a SCC customer summit, Amber Road held a 2-day customer summit in Washington, DC earlier this month for all SCC customers. The intimate event gave former ecVision customers the opportunity to interact with other retail supply chain executives, provide feedback on the product roadmap and learn more about Amber Road's GTM software suite.
After two productive days and a lot of knowledge sharing, the attendees walked away with:
Check out our photo album from the event posted on our Facebook page.
We hope all of our customers enjoyed the conference and look forward to seeing more of our customers at upcoming user summits!
This post was published on May 2, 2016 and updated on May 2, 2016.