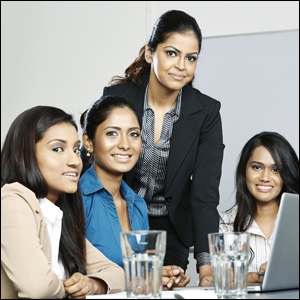 On March 8, 2017, the women of Amber Road Bangalore celebrated International Women's Day with introductions and reunions, fellowship and food, and a common purpose - to unite, empower, and inspire the women of Amber Road. At Amber Road we have been celebrating International Women's Day for quite some time. I've seen positive results from this empowering experience that are not just limited to the energy and enthusiasm from that day's events.
Over the years I have seen the empowerment surface in our creativity, collaboration and productivity. It is incredible to see our women becoming stronger and growing in their roles and responsibilities! Just a few short years ago the Bangalore office operated with the strength of only five female employees - and today we are sixty four strong! That is fantastic growth for a company of our size in this industry.
But don't take it from us, hear what some of the women at Amber Road Bangalore had to say:
"Initially, it felt like an ice breaker session. However, after getting to know everyone, we now we share smiles and we feel that it has brought us together. The activities were planned in such a way which has impressed upon us team bonding, increased collaboration, fostering of innovation and creativity and having fun and cheerful moments together. All of which has created some beautiful memories which we will always cherish."

-Monika

"The day gave me a chance to interact and bond with others, with whom otherwise wouldn't have had a chance to interact. Now, we exchange smiles and say a hello when we cross our paths. I just got to know more women than I earlier did. Thanks much for bringing us together!"

-Sanjana
The journey from five to 64 women in the Bangalore Amber Road office has been fruitful. We look forward to more growth, and most of all to helping each other enhance our talents and develop the next generation of women leaders!
Madhavi Gokayarapu is the Senior Manager of Human Resources in the Amber Road Banglore office. She has been with the company since 2008.