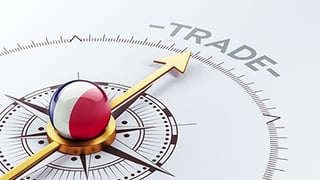 On May 14, 2017, the French Republic elected the youngest president of its history, Emmanuel Macron, who promised to reform the country and better prepare it for 21st century challenges. This is a big deal for the global trading community and the EU because France has the world's sixth largest economy by IMF estimates and the tenth largest economy by Purchasing Power Parity figures. It is the third largest economy in Europe.
In the wake of this historic election, there is one particular French trade aspect to consider and whether it's ripe for reform: the peculiar French indirect taxes. Sure, France may have done away with their king a while ago, but some say France is still the King of Indirect Taxes!
What are indirect taxes?
This tax must be paid to the government as part of the price of the imported goods. The importer ultimately pays the tax by paying more for the product. The most common example of an indirect tax is an import duty, paid by the importer of a good at the time it enters the country. If the importer goes on to resell that good to a consumer, the cost of the duty is "hidden" in the price that the consumer pays. The consumer is most likely unaware of this, but nonetheless they will be indirectly paying the import duty. (The proposed US Border Adjustment Tax or BAT is similar.)
But that's not all, as the example of France shows. Any taxes or fees imposed by the government at the manufacturing or production level are considered indirect taxes, since their costs are passed along to consumers.
France's extra taxes
Here are some of the additional taxes that French customs usually levies on imports of products originating in countries outside of the EU:
Development of leather, leather goods, gloves, footwear and apparel
Development of watchmaking and jewelry, wood and furniture
Development of building materials, ornamental and construction, concrete products, tiles and bricks
Reproduction or printing apparatus
Imports of vegetable and animal oils and fats
Products derived from common wheat flour
Internal consumption tax (TICC) on coal, lignite and coke used as fuel
Tax charged to the technical center of a factory that produces metal castings
Import of plastic products and on the industrial technical center for plastics and composites
The French also oversee departments that levy a special consumption tax (TSC) on petrol, super fuels, diesel and emulsions in diesel fuel. These indirect taxes are often forgotten or not considered when calculating the the total landed cost for a product or transaction.
The Total Landed Cost definition (LC) is the total cost of a product once it has reached the buyer's premises. A precise total landed cost formula includes the price of the product itself as well as all transportation fees, customs, duties, taxes, insurance, and any handling charges that may apply during the trade flow cycle of the product.
How Amber Road helps our clients with landed costs
Being able to accurately estimate landed cost is an essential metric for end-to-end global supply chain management. It can impact all parts of the supply chain, from making sourcing decisions to product pricing.
Amber Road maintains the most comprehensive and robust database of global trade content, government regulations, and international business rules available today. Updates to default taxes, most favored nation (MFN) duties, preferential import duties, value-added tax (VAT) and other major governmental taxes are then performed to ensure customers have access to the most current global trade duty and tax information.
Amber Road makes it possible to factor the complete spectrum of charges into the total landed cost formula — including the duties, taxes and fees imposed by governments worldwide — into the picture. Our landed cost calculators use the global trade content that is constantly updated and maintained in our Global Knowledge database.
Amber Road covers additional indirect taxes in its total costs calculation which enables our customers to obtain a much more accurate picture of the actual costs to clear goods in France. While we not only show the duty rate as set by the EU, our export management software is able to enter a deeper level of granularity and capture national and even regional rates. This makes the Amber Road Total Landed Costs calculator truly best in class.
Global Trade Content Specialists regularly monitor and update landed cost content for their countries. The tariff schedule is a key source for the landed cost content. In its most basic form the tariff schedule is composed of the list of HS numbers, the descriptions and corresponding default duty. More comprehensive tariff schedules also have other aspects of LC such as VAT, any other import taxes that apply, fees, etc.
Vive la France (Vive Amber Road)
Setting up his own grassroots movement called "En Marche!," Mr. Macron is a vocal supporter of a stronger EU and his policies reflect that. He may reform France by doing away with all of the indirect taxes, enabling more imports and making France less complex and bureaucratic.
In the same way, Amber Road changes the way companies conduct global trade. Many of our customers, including some of the world's largest enterprises, have automated their global trade processes for the first time with our solutions.
Automating global trade requires more than software — it also requires trade content. Trade content includes harmonized tariff codes, restricted party lists, export regulations, import regulations, shipping documents, preferential duties and taxes, specifications involving free trade agreements, transportation rates, and sailing schedules.
With Amber Road, our customers can capture the growing trade opportunities that France will soon offer under the leadership of Mr. Macron.
This post was published on June 19, 2017 and updated on June 19, 2017.