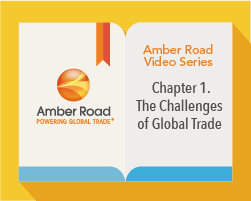 Supply chains encompass the evolution of products, from raw materials to finished goods. Various components form the context of this sequence of processes, including a complex and vibrant network of organizations, people, activities, information, and resources.
Amber Road's new video series tells the tale of a product as it makes its way through the supply chain. From development to production, testing, and shipment, we explore what actually goes into getting the product into the hands of the consumer.
With the proliferation of global trade over the past decade, complexities are constantly being introduced into the supply chain. Global trade professionals have to plan, collaborate and execute daily to ensure their goods are in the right place, at the right time, for the right price. Watch chapter one, The Challenges of Global Trade, to better understand the pressures of doing business in the current environment. We know that it isn't easy, but Amber Road's solutions are here to help!
We'll introduce the second video in the series in a couple weeks, so stay tuned. Be sure to subscribe to our blog so you can follow along with our story and learn how to improve your global trade practices along the way.
This post was published on August 10, 2016 and updated on August 10, 2016.