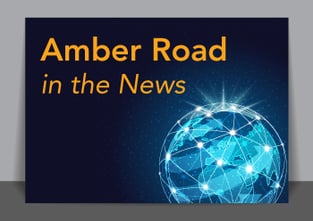 Extra! Extra! Read all about it! Amber Road takes on control tower visibility, regulatory risk mitigation, food safety, and global trade uncertainties in this month's press stories.
Amber Road's industry leaders have a lot to say, and this month features pieces written by Gary Barraco (Director, Global Product Marketing) and Suzanne Richer (Director, Trade Advisory Practice). Discover what they have to say!
Taking the "Ouch" Out of Transportation Costs,Talking Logistics written by Gary Barraco:
A single item can touch multiple continents before landing in the hands of the consumer. And this global trip isn't just for sightseeing. In this piece, Amber Road talks about how best-in-class global trade management software solutions can give companies full control tower visibility and management over their global supply chains.
The Risks of Eluding Risk, Supply & Demand Chain Executive quote by Gary Barraco:
Even if you think you're doing all you can to mitigate risk, you're probably not. In the article, Amber Road's Gary Barraco recommends proper global trade screening and supplier collaboration, along with visibility helps to mitigate risk to go the extra mile so it won't cost companies in the long-run.
Putting the Food Safety Puzzle Together, Food Logistics written by Suzanne Richer:
While the US food industry continues to be revolutionized by the Food and Drug Administration's (FDA) Food Safety Modernization Act (FSMA), companies producing and shipping perishables globally continue to be challenged. In this article, Amber Road offers industry best practices to help food and beverage companies align food safety in their supply chain, regulatory compliance standards and protect brand reputation.
Navigating Your Way Through Global Trade Uncertainties, Compliance Week:
All the world's major economies are making dramatic changes to their trade policies which means compliance and risk considerations are more important than ever. Within this compilation of published content from the Compliance Week editorial team, you can find articles that discuss a range of ongoing global trade uncertainties. Look for the special piece written by Amber Road that offers a digital solution for your woes.
To catch up on Amber Road's press coverage, check out our Press Room. Until then, stay tuned for our May coverage!