Globalization and protectionism is driving a new business paradigm for supply chains – a vigorous international debate on the parameters of free or preferential trade. From a strategic and global perspective, Brexit could be the first wave of de-globalization and growing populism in other nations. But President Trump's driven agenda continues to cause turbulence worldwide as other countries look to strike bilateral trade agreements rather than stay in the previous regional ones.

With approximately 500 regional and preferential trade agreements now in place across the globe, companies can benefit from the lowered duty rates and trade barriers that come with these free trade agreements (FTAs). But managed ineffectively they also pose huge compliance risks. FTA information needs to be constantly updated to ensure accurate origin determination for making a claim. Keeping global trade professionals compliant is our business. Amber Road is proud to announce that we have added 89 new trade agreements to our Free Trade Agreement Management software bringing the total to over 120. FTA identification and qualification in Amber Road's Free Trade Agreement Management solution is powered by our Global Knowledge® database of global trade content. Global Knowledge® contains the rules of origin, product classifications, and duties and taxes for the major trade programs.

Amber Road now supports new FTAs in North America, Asia, Europe and South America. These include many of the bilateral/multilateral agreements such as the African Growth and Opportunity Act (AGOA), ASEAN-Japan Comprehensive Economic Partnership Agreement (AJCEP), the European Free Trade Association (EFTA), the China-Switzerland FTA, the Mexico-Central America FTA, and the many Generalized System of Preferences (GSP) programs that have emerged recently. Click here for the full table of FTAs, including the 89+ new trade agreements.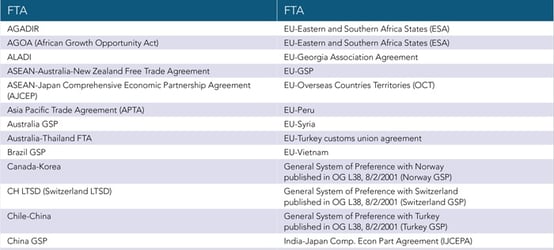 Utilizing Amber Road's FTA Management solution can help open up new markets for your company by simplifying the compliance and qualification processes. With new FTAs on the horizon or just passed, such as the EU-Canada FTA, sourcing decisions can be made with an eye towards potential trade benefits from the start.

Brexit may usher in a whole new set of bilateral agreements, as countries around the globe have made statements welcoming an FTA with the United Kingdom, even though the divorce proceedings are just beginning. Brexit implications for trading relationships with the EU and UK will be highly complex, and only the best automated FTA management solutions will be able to keep on top of the changes.

While bilateral agreements seem to be rising in popularity, multilateral agreements can't be counted out just yet. Negotiations on the Regional Comprehensive Economic Partnership (RCEP), between the ten ASEAN nations, Australia, China, India, Japan, South Korea and New Zealand, are well underway. Although President Trump removed the US from the Trans-Pacific Partnership (TPP) earlier this year, the eleven remaining nations are charting a path forward on TPP, hoping that the years of work put into the agreement won't go to waste. If the TPP and other pending agreements enter into force, Amber Road's FTA Management solution will be there to support the process.

These pending agreements are not the only FTAs that global companies must keep an eye on. In the Americas, renegotiations on NAFTA are slated to begin later this year, with the potential to change the way business is conducted across either side of the U.S. border. While it will be some time before any changes become law, having an automated solution that keeps track of the changes will position your company to be one of the first to take advantage of any new duty reductions, while helping keep you on top of compliance requirements.

Amber Road has been developing software automation support for FTAs since 2004. A more generic and configurable architecture was introduced in 2012, which was designed to better support the various differences across regional FTAs. These changes facilitated the ability for a multi-national company to manage all their FTAs under one centralized and common process. With the recent addition of many new FTAs, Amber Road has become the global leader in this area. In addition, since the FTA module is tightly coupled with the Export and Import solution modules, the "reduction of duty" benefits are seamlessly integrated with the global supply chain execution processes.

To learn more about preferential duty management using Amber Road's global trade automaton platform, visit https://www.amberroad.com/solutions/free-trade-agreements.shtml
This post was published on July 5, 2017 and updated on July 5, 2017.