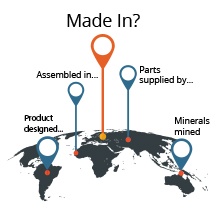 Lowering or eliminating your customs duties by leveraging free trade agreements or trade preference programs is a smart business strategy. There is an essential requirement to free trade agreement utilization: validating the product against its Rule of Origin (i.e. qualification). These rules define the criteria by which a product is eligible for participation in the trade program. When a product is wholly obtained and produced in a single country, it is relatively easy to determine its eligibility. Difficulties arise in determining eligibility of goods manufactured in, assembled in, or using materials originating in, more than one country.
As per the WTO, there is no current international definition of Origin, though there are two systems: preferential and non-preferential. In preferential Origin, everything is based on bilateral or multilateral agreements. Non-preferential Origin is established with each country applying its own rules, although within some regional economic unions the non-preferential rules are harmonized for all the Member States of the Union concerned. The preferential Rules of Origin determine what products can benefit from the tariff concession or preference. NAFTA is an example of a trade agreement that offers tariff concession for goods that originate according to its rules. Rules can vary from country to country. For example, the EU Commission publishes its Preferential Rules of Origin, tariff and other information so importers can research the requirements. US Customs and Border Protection does the same and publishes those regulations under 19 CFR 102.
To determine the value of utilizing FTA's, companies can automate the Rule of Origin qualification process by leveraging automation tools and trade content. As an example, this will reduce the risk of errors in the manual review of a product's Bill of Materials (BOM) against the eligibility criteria. There are also key situations where importers want to determine if a product meets the rule of origin requirements based on HS classification number, without specifying any components or other information at an early stage – for example during the early stages of a product lifecycle where all information isn't readily available. In this case, the software needs to have enhanced search capabilities backed by strong trade content.
The ability to review the Rules of Origin in an ad-hoc way, without a full BOM qualification, is now available as part of our comprehensive platform for rule of origin research on-the-fly. Amber Road's new Rule of Origin Query Tool can be used by suppliers who want to find out the applicable rule of origin and duty rates to then provide to their customers or prospects. These rules can also be used by importers seeking to optimize potential trade programs by sourcing from regions that are part of an agreement. Users can search using classification number, country of origin, or the free trade agreement name to yield results. The outcome details display not only the current rule description, but also the participating countries, default duty rate, preferential duty rate, Tariff shift, RVC, De Minimis, and Processing Requirement (if applicable). If needed, a complete PDF document of all the rules in the trade agreement can be viewed from the search results.
Rule of Origin data from countless Free Trade Agreements and other preferential programs feeds into the Text Search Rules to ensure accurate results. Amber Road currently supports over 130 FTAs globally and continues to add more.
Free Trade Agreements often reduce import duty rates to zero and can represent a significant cost-savings, when used compliantly. Amber Road's Rule of Origin Query Tool provides users the capability to easily find relevant Rules of Origin. This capability combined with the Amber Road ad hoc qualification tool, allows users to quickly and easily simulate the Rule of Origin qualification process. It enables sourcing teams to identify large potential bottom line savings in a user friendly, efficient manner. Customers have saved millions of dollars year-over-year using these solutions. To learn more about using automation for Free Trade Agreements, visit Amber Road's website.
This post was published on November 20, 2017 and updated on November 20, 2017.