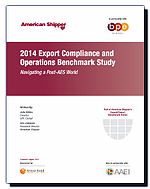 Despite attempts by the U.S. government to streamline export regulation and stoke growth of exported goods, it remains a tricky and evolving process. This year's American Shipper report takes a deeper look at how exporters are managing their export documentation in the wake of the latest AES deadlines last year.

This report, co-produced with BPE Global and AAEI, also examines the level of involvement export practitioners have in strategic areas like new markets and mergers and acquisitions, as well as their path to invest in technology solutions designed to make the export compliance process more efficient.
Key themes include:
The role of compliance and operations personnel in strategic export decisions
Organizational structures and responsibilities
How shippers file their EEIs
Whether investment is available to invest in export technology
How system delivery model choices are changing
Download your complimentary copy of this report to learn how to improve your organization's export operations and compliance processes!