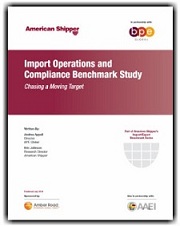 Although importers are becoming savvier in managing their global import operations, their advances in sophistication and technology deployment are being offset by increased external complexity. Importers seem to be forever chasing a moving target.
American Shipper's latest Import Operations and Compliance Benchmark Study provides a deeper understanding of how these moving targets are impacting U.S. operations and compliance managers. The study takes an in-depth look at:
Top concerns of importers
Auditing practices
Customs filing timeliness and accuracy
Duty avoidance programs
Operations and compliance technologies
Whether funds are available to invest in import technology

Download your complimentary copy of this report to learn how to improve your organization's import operations and compliance processes!
This post was published on July 30, 2014 and updated on April 7, 2017.