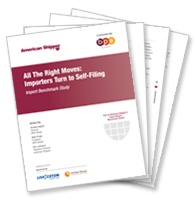 Brokers have, and always will, play a key role in most import organizations, but new research from American Shipper shows importers taking more interest in self-filing amid an ever-changing import environment.

American Shipper's new Import Benchmark Study, produced in partnership with BPE Global, looks at how mandatory implementation this year of the Automated Commercial Environment (ACE), possible new sweeping free trade agreements, the new drawback law, and complex global regulatory regimes are influencing the decision to take import compliance functions in-house.

The report also looks in depth at how importers and their brokers are grappling with the transition to ACE, and whether these issues are inter-connected – in other words, are more importers taking control of filing due to the switchover?

Highlights include:
Import technology usage patterns
The most important performance metrics tracked by importers
Key policy and departmental structure elements of importers
What areas in a company are impacted by trade compliance

Download this American Shipper report to discover how companies are managing global trade compliance today.
This post was published on August 26, 2016 and updated on August 26, 2016.