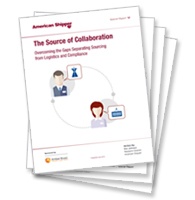 Let's put it bluntly: in most companies, sourcing teams are not well connected to their logistics and trade compliance teams. In fact, recent research from American Shipper shows that fewer than 5 percent of companies have a single platform linking key sourcing activities with freight transportation.

But there is growing recognition that connecting these functions is vital, especially as retailers feel pressured to deliver their products faster and through new channels. A new white paper from American Shipper explores this gap between expectations and capabilities when it comes to a system that tethers global sourcing with logistics and compliance.

Highlights of the report include:
Statistics on sourcing automation and single supply chain platforms
ROI expectations of technology investment
Whether retailers expect faster time to value from compliance or sourcing technology
A practical discussion of the problems created by poor sourcing and logistics connectivity

Download this American Shipper report to discover how your company can utilize technology to drive automation, efficiency, visibility and process improvement.
This post was published on August 29, 2016 and updated on November 2, 2017.