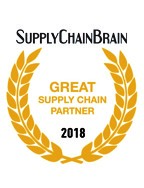 A great supply chain partner is one who knows exactly what ingredients a company needs to make their operations successful — and those that can be skipped. As a software provider, it's critical that the functionality and tools support the marketplace, across all industries and company size. To highlight companies that possess these important characteristics, SupplyChainBrain has announced the 100 Great Supply Chain Partners of 2018 and Amber Road has emerged as one of those highly-valued companies.
SupplyChainBrain has maintained a tradition of celebrating 100 Great Supply Chain Partners for sixteen consecutive years. 2018 once again brought a very competitive field of nominations from across the industry – from every angle of the supply chain – that help companies finance supply chain operations, mitigate risk and ultimately bring together disparate components to streamline businesses. There are many companies out there who are deeply appreciative of their suppliers' services and solutions.

"For sixteen years running, SupplyChainBrain has published our much-anticipated list of 100 Great Supply Chain Partners — a select group of companies whose customers recognize them for providing outstanding solutions and services. Our six-month online poll of supply chain professionals requires a qualified response, asking them to nominate vendors and service providers whose solutions have made a significant impact on their company's efficiency, customer service and overall supply chain performance," said Brad Berger, Publisher, SupplyChainBrain.

"This year's field of nominees was competitive and inspiring – coming from all sectors of supply chain management. Amber Road should be proud to be named amongst the 100 Great," he added.

Now in its 13th year of recognition, Amber Road appeared in the 2018 October issue of SupplyChainBrain magazine as an honored member of this year's 100 Great Supply Chain Partners.
This post was published on November 14, 2018 and updated on November 14, 2018.