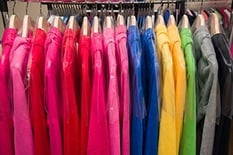 Despite store closures, sluggish sales, and demanding consumers, at least 50 of the most profitable retailers still managed to keep growth going. Their success is in large part related to the technology they use to keep their supply chains running at optimal performance and beat the competition in a tough marketplace. Industry resource Apparel magazine has released its annual "Top 50 Report," not just listing the most profitable US apparel companies, but shedding light onto how they came out swinging in 2018, despite the industry challenges they faced.

In order to hold a position on this list, retail companies need to exceed $100 million in sales, even though most reach into the billions. As publicly traded US companies, these organizations have demonstrated profit margin increases over the last year, grading them in order of these strides in revenue gains.

Amber Road is proud to congratulate 10 of the Top 50 companies who we also have the honor to serve as customers. These are the companies on this year's Apparel Top 50 list that are customers leveraging Amber Road's software solutions for supply chain collaboration and execution:

Tapestry (Coach, Kate Spade and Stuart Weitzman)
Nike
Cintas
PVH
VF Corp
Chico's
Ralph Lauren
Vera Bradley
TJX
L Brands
"Some of these notable names have been long-time customers. The year-over-year performance of these winners is impressive, and we believe software solutions do play a hand in their achievements," said Cheryl Layne, Customer Success Director for Amber Road. "We have always maintained a customer base of growing apparel and footwear companies and we congratulation them for their hard work."

When asked about challenges, Robert Wallstrom, CEO of Vera Bradley replied: "Over the last few years, retail has been going through a very disruptive cycle, and the industry has changed forever. Technology has revolutionized retail: the e-commerce channel has become the primary growth engine; marketing has transformed to a 'digital-first' strategy; the physical store has moved from a place of purchase to a place of brand experience; and artificial intelligence is becoming the core engine to drive change faster than anyone could have previously imagined." You can read the entire Apparel article here.

It's apparent these companies understand the business value of automating and optimizing their supply chain execution operations for greater visibility, agility and lowered risk, while reducing sourcing costs across the board. To do it right, organizations need to take a holistic, integrated approach that encompasses every phase in the lifecycle. Amber Road offers companies solutions across the entire supply chain. To learn more about today's global trade management solutions, click on the download below from Aberdeen Group.
This post was published on October 2, 2018 and updated on October 2, 2018.