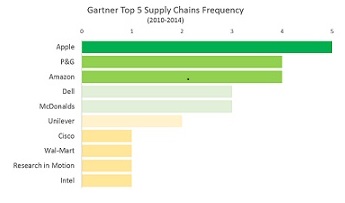 There are many things that have attributed to Apple's success. From its innovative product line to the company's ecosystem, Apple is continuously a trendsetter. But according to the 2014
Freightos
article, "The iPhone 6 Supply Chain: Winners and Losers", a trend that many do not know is the intricacy of Apple's iPhone supply chain.
Take a look at Gartner's top 25 supply chains from the past 5 years. Apple is the only company to be on the list all five times, ranked at number one each year. Apple's success is largely due to mastering its incredibly complex supply chain early on.
From the very beginning, Apple has outsmarted their competition. In 1997, when Steve Jobs debuted the classic translucent iMac computer, he bought all of the air freight space leading up to the holidays. During the busiest shipping time of the year, the only product on those shipments were iMac computers.

Today, Apple's demand is higher than ever. Over four million iPhone 6 devices were sold on preorder within the first 24 hours, selling twice as fast as the iPhone 5 did in September 2012. With parts coming from suppliers in 20 locations internationally, Apple reserved every cargo flight from China to the United States on 3 carriers for two weeks. Sound familiar?
For more information on Apple's supply chain, check out the full Freightos article.
Looking for ways to optimize your supply chain performance? Click the button below to download Aberdeen Group's Supply Chain Visibility and Segmentation: Control Tower Approach report now!
This post was published on October 8, 2014 and updated on April 7, 2017.