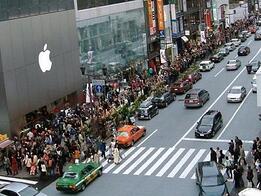 It is no surprise that Apple is always two steps ahead of the competition. It seems when a new product is unveiled, without question, all other brands follow suit. But when it comes to Apple's supply chain intricacy, the brand is stuck between publicity and the necessity of secrecy.
According to a 2014 SupplyChainBrain article, "Apply's Supply-Chain Challenge: Keep it Secret Then Tell the World", a pillar in Apple's culture, started by Steve Jobs and continued by Tim Cook, is secrecy. Secrecy in their products, product release timeline, and supply chain visibility has risen Apple above and beyond the competition. Much of their success has been a result of a very strictly controlled supply chain and relying solely on particular manufacturers. Because Apple products cause such chaos and havoc with retailers and consumers, the fewer who know about products, the less likely that product details will leak.
On the other end of the spectrum, Apple has been extremely successful in their marketing efforts. A recent example happened just a few months ago with the release of the iPhone 6. Like most years, the demand for the newest Apple product was more than anyone could have ever imagined. 200,000 workers were monitoring 100 production lines at all hours and producing 540,000 units a day. But that still was not enough.
What may seem like a total disaster just may be considered marketing brilliance. Throughout the weeks of the iPhone 6 mania, the buzz was surrounding how consumers couldn't get their hands on the phone fast enough. Consumers want what they can't have.
With the secrecy combined with heighted product buzz, how will Apple keep up with the two opposing pulls? No matter what, when it comes to a highly-anticipated product, Apple never disappoints.
For more information, check out the entire SupplyChainBrain article here.
Apple's supply chain visibility and intricacy rely heavily on the help of the Chinese. Download the Journal of Commerce's China Trade Management: Opportunities, Challenges and Best Practices report to learn how you can take advantage of this booming economy.
This post was published on November 24, 2014 and updated on January 27, 2015.