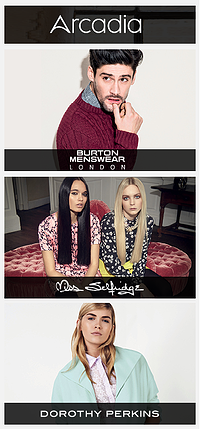 Arcadia Group Ltd, the largest privately owned fashion retailer in the United Kingdom, has signed a worldwide contract with Amber Road for an integrated Global Trade Management (GTM) suite. With the Amber Road GTM suite, Arcadia plans to automate the company's key import, export, supply chain visibility, and trade planning activities.

The Amber Road GTM suite is part of a larger, group-wide Global Supply Chain initiative at Arcadia designed to improve how the company manages the sourcing, manufacturing and delivery of its products, worldwide.

With well-known brands including Burton, Dorothy Perkins, Evans, Miss Selfridge, TOPSHOP, TOPMAN and Wallis, the Arcadia Group has more than 2,500 outlets across the United Kingdom and concessions in major U.K. department stores, as well as an expanding on-line business across all brands. Internationally, The Arcadia Group is expanding rapidly; the brands are sold worldwide through franchise partners in 38 countries, and delivering on-line to more than 110 countries. In addition to its successful and growing partnership with Nordstrom both within stores and on-line, TOPSHOP and TOPMAN have recently announced further expansion in the U.S. with five new fully-owned stores scheduled, with the second largest flagship in the world opening on Fifth Avenue, New York this Autumn.
Learn more about how Arcadia plans to use the Amber Road GTM suite here.

This post was published on March 13, 2014 and updated on February 11, 2015.