As the late great David Bowie said in his 1971 hit song Changes, "time may change supply chains, but supply chains can't change time." Well... maybe not exactly that. Nonetheless, last year brought about many changes in the global trade industry. We saw a rise in protectionist measures worldwide, new import regulations, and free trade agreement negotiations that could greatly impact leading economies. All of these new developments can be quite concerning for importers and exporters, but which should be top of mind and how can you be prepared?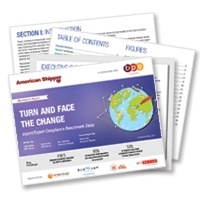 American Shipper's Import/Export Compliance Benchmark Study: Turn and Face the Change explores the concerns of today's shippers and provides insight into how other importers, exporters, retailers, and manufacturers handle cross-border trade. In fact, did you know that 40% of exporters want better market access in China for their products?
Download this complimentary report to discover American Shipper's fascinating key findings, including:
4 in 5 shippers would be impacted by NAFTA withdrawal
85% of importers and exporters are concerned about border tax proposals
50% of shippers say trade compliance impacts at least 5 other departments
No matter how you may feel about the current and pending policies, trade policies are influencing the key decisions of supply chain officers regarding import compliance and export compliance and are modifying longstanding practices. The changes to taxes, free trade agreements, and other political activities will require additional steps to be taken in order to remain compliant and you will need leading technology to handle all those extra steps. Act now and download the report today!