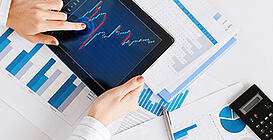 According to a recent study from Accenture, 97% of executives reported having an understanding of how big data analytics can benefit their supply chain, yet only 17% reported utilizing big data in one or more supply chain functions.
Brands find themselves consistently sifting through large amounts of data in an attempt to discover valuable information that can lead to accurate forecasting on consumer demand and improved visibility. This can be a very tall task, especially for large companies, which helps explain the low number of brands (17%) that are using this data.
The difficulty lies within the organization of structured vs. unstructured data. While many brands are adapting to the changing environment of technology in supply chain management, some are still reliant on computer applications and email to store and communicate valuable data.
Big data can be looked at almost as a bully, and the problem is its victim is typically your Excel spreadsheet. Spreadsheets can be a huge headache for executives trying to maintain or build an accurate forecasting model since they call for manual entry, which will slow down operational efficiency.
Cloud-based solutions pave the way for standardized data entry and sharing. A data network is only as strong as the quality of information that is being exchanged. Real-time analysis of information is a key driver in efficient forecasting and improved visibility for supply chain executives.
Check out Accenture's study for more information on big data analytics.
If you think it's time to move on from your spreadsheets, check out Aberdeen Group's report on Organizational Intelligence: Cloud-Based Global Trade Solutions Replace the Firewall.