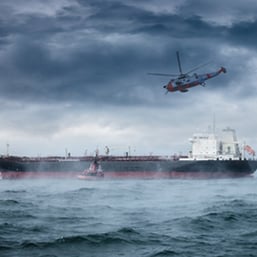 Hurricane season is upon the Western Hemisphere, and 2017 looks to be a record-breaking year. Before Hurricane Irma barreled through Florida, where businesses, government agencies and residents were braced for the deluge, it leveled small islands in the Caribbean with high winds, leaving chaos in its wake. A few states over, the floodwaters of Hurricane Harvey may be receding but the price tag is rising to a multi-billion-dollar record. Unfortunately, ongoing disasters are not just attributable to hurricanes. In the western U.S. and Canada, wild fires continue to encroach upon civilization, spelling destruction for homes and businesses in their path. Mexico's strongest earthquake in a century left dozens dead and buildings destroyed.
The west isn't alone in facing life-threatening weather conditions. Heavy monsoon rains paralyzed Mumbai, India's financial hub, flooding streets and disrupting land, air and road traffic. In the Pacific, Macau is suffering an economic loss of US$1.42 billion in the wake of Typhoon Hato, and the Hong Kong Observatory expects three more typhoons to sweep in over the coming weeks.
These epic natural disasters spell-out not only bad news for residents, but also for global businesses that rely on these ports for their supply chains. Houston is a key consolidation point for imports of goods from Mexico to shipments for stores at the Canadian border. The flooding caused by Harvey shut down much of the coastal Texas transportation system and Port Houston was closed for days, leaving shipments at a standstill. Trucking fleets, railroads, and shipping lines had to reroute cargo and set up alternate supply lines.
Harvey also went beyond disrupting transportation. Newell Brands announced that the hurricane threw off its manufacturing supply chain in Louisiana and Texas. For its brands like Rubbermaid and Coleman, the continued shutdowns of "nearly all of Newell Brands' resin suppliers" in the two states were unexpectedly driving up costs and tanking the company's shares. The ripple effect has led to thousands of people applying for unemployment benefits until operations resume.
With disasters like these seemingly coming more frequently and with increased ferociousness, how do global companies and supply chains plan for these inevitable but unpredictable disruptions, and how can they mitigate the damage?
Prep and Prevention – Supply Chain Collaboration
Catastrophic weather events like these remind supply chain managers how fragile operations can be when facing insurmountable challenges. Risk management is incredibly important, and automated supply chains can help make that an integral part of operations. However, fully eliminating risk in the supply chain simply isn't possible, as the events of the past few weeks have shown. Rather, companies can bet­ter position themselves by making their supply chains more resilient to the infinite number of risks that may become realities. Companies can bolster the resilience of their supply chains by making targeted investments in areas that proactively mitigate risk:
Connecting all business partners in a single, integrated, cloud-based platform
Enhancing visibility of their supply chains, including second, third, and even fourth-tier suppliers
Collaborat­ing with suppliers in real-time via cloud-based platforms
Improving control of key operational and quality processes
Enhancing agility to improve responses to adverse changes in external environments
The ability to meet supply chain objectives by preventing or recovering quickly from risk-related disruptions, may be more fruit­ful than merely crossing corporate fingers and hoping these risks never materialize. However, what comes next? After the wind has slowed and the storm waters have receded, does your business have a plan to put the pieces back together, and begin operating again as if nothing happened?
Better Resilience Case Study
Levi's had the opportunity to jump into action and proactively mitigate its risks during Hurricane Katrina. The company bolstered resilience of its supply chain using a well-implemented global trade management system coupled with well-devised contingency plans. With better supply chain visibility and close supply chain collaboration with their partners, Levi's identified shipments not yet departed from Latin America when the hurricane hit the US, and held those shipments at the origin. The company also identified trailers at trans-load in Miami and Dallas, and quickly rerouted them away from Canton, MS or put them on hold.
Based on ocean carrier updates, Levi's identified and diverted products, and set up temporary cross dock arrangements with strong domestic carrier partners. More control of processes allowed them to look at what was in-transit and what was too late to divert. They then created reports to quickly identify contents and last known location of the equipment. This helped close the loop on inventory amidst the chaos.
Levi's used global trade management software to drive trailer manifests to identify those products on-lot at Canton and prioritize unloading based on order requirements. The company ran capacity reports and projected ETA sharing with commercial operations to support re-supply and augmentation. It also provided dynamically updated ETA info to other supply chain partners (e.g. Truck, rail) so they would better adjust. A bonus of better supply chain management meant the company could turn its focus on supporting charitable initiatives for people devastated by the hurricane.
From Risk Mitigation to Recovery
Manufacturers and brands must make global sourcing decisions in an environment where they don't know all of the factors. Globalized sourcing operations increase the likelihood of risk or disruption at every turn. Planning for the unexpected is imperative, but the right ingredients are also necessary. No one risk exists in isolation. One of the keys to surviving disasters like these is supply chain resilience, where the supply chain can adapt, adjust, and respond when required by unplanned changes. A resilient supply chain can handle not only natural disasters, but also geopolitical events, economic downturns, and regulatory uncertainty. By identifying risk ahead of time, flagging solutions and alternatives, and having a digital global trade management software solution allows companies to get quickly back on their feet and resume operations.
While there is no way to avoid what can seem like world-wide disasters, companies that employ the best tools are situated to bounce back quickly and prevent lasting damage to the bottom line. These Best-in-Class companies are more likely to have a digital supply chain visibility solution that is agile enough to combat them. To learn more, download the full Aberdeen report "Supply Chain Visibility: Know Sooner, Act Now".

This post was published on September 15, 2017 and updated on September 15, 2017.