As the world has shrunk and companies have largely moved their presence online, global trade management (GTM) has become a major factor in supporting eCommerce.
Aberdeen Group's recent research highlights the capabilities that allow best-in-class eCommerce companies to flourish online. For example:
Check out Aberdeen Group's new infographic to find out how best-in-class companies benefit when utilizing GTM to support eCommerce and how they compare to their competition.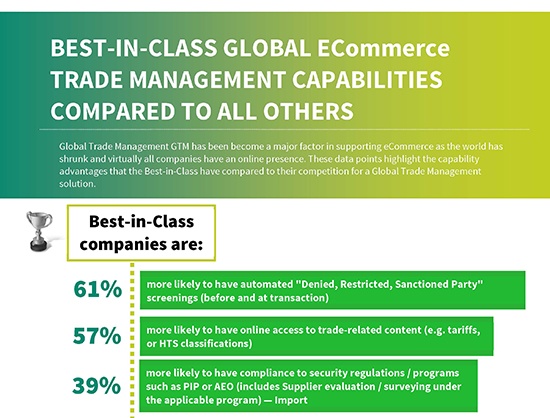 You can download a PDF of this infographic by clicking here.
To learn even more, download the full Aberdeen Group report Leveraging Global Trade Management for Frictionless eCommerce to explore expert analysis on the importance of automation in the eCommerce market.
This post was published on June 20, 2016 and updated on July 15, 2016.