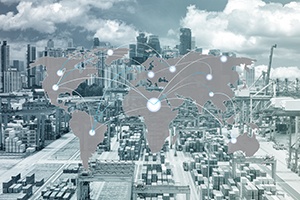 Many supply chains are on the cusp of a digital transformation. To remain afloat in the competitive and challenging environment, companies must optimize efficiency across all points of their supply chains all the while improving margins and reducing direct costs. Next week's CSCMP 2017 EDGE Supply Chain Conference is where cutting-edge supply chain solutions are shared, discovered, and explored by supply chain executives of the world's top organizations.
Amber Road's global trade management (GTM) solution creates a digital model of all the points on the supply chain from sourcing to shipment execution. Digitization removes the need for fax, snail mail, and other ways of the past with advanced electronic capabilities so you can be connected to all points on your supply chain within seconds.
Amber Road is excited to exhibit and speak at the CSCMP 2017 edge Supply Chain Conference next week in Atlanta, GA. Come chat with us at booth 928 to learn how digitization can help your company transform the way it conducts global trade. You might even win a GoPro HERO5 Session!
Amber Road's thought leaders will contribute to the conversation beyond booth 928. Stephanie Miles, Senior Vice President of Commercial Services at Amber Road, will serve on the panel 'Women at Work.' The session will take place on Sunday, September 24th from 3:15PM to 5:30PM in C202-C204 on Level 2. The abstract is as follows:
Organizations are becoming ever more flat and networked, making the ability to manage social relationships a vital skill for successful leaders. With so many stakeholders, particularly in the supply chain organization, conflict is common, but does not need to impede progress. Analyzing a potential conflict in advance will help you deal with it more effectively. Hot buttons that often provoke unanticipated conflict can learn to be managed. Join Penn State Executive Programs in its fifth year sponsoring this Women at Work Session as we nurture the extraordinary leader in you through techniques for managing conflict. This workshop-style event will provide ways to anticipate, plan, and react more effectively to unforeseen conflicts in every day work situations.
Suzanne Richer, Director of Trade Advisory Practice at Amber Road, will be a panelist on 'Benchmarking Order Fulfillment Best Practices.' The session will take place on Monday, September 25th from 10:30AM – 11:45PM in C206 on Level 2. Suzanne will be joined by executives from Pfizer, Johnson & Johnson Consumer, and Coca Cola. The session will explore how firms have to navigate complex order fulfillment needs through globalization, multiple channels, inaccuracies, and escalating costs. The experts will discuss best practices for evaluating demand, visibility, case studies, and recommendations across all.
Supply chain and logistics continue to dramatically evolve and luckily GTM solutions have kept pace. With the best automated trading software on the market, Amber Road is excited to share our cutting edge supply chain solutions with you. Come say hello to us at booth 928!
This post was published on September 22, 2017 and updated on September 22, 2017.