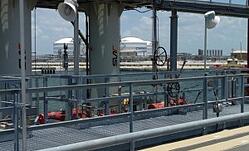 The US will soon begin exporting "fracked" liquefied natural gas (LNG) abroad. Fracking, a technique used to extract oil, has put the country in a position to become a major gas exporter. The Energy Department has recently approved the first LNG export proposal and is now in the process of reviewing 20 others.
Many companies have already started preparing to export LNG. A $20 billion project to prepare an export terminal for LNG is currently underway in Louisiana. The terminal was originally designed to import natural gas, but is instead becoming an export terminal due to US gas becoming abundant and relatively cheap. Another terminal in Texas that was originally constructed to import gas has been investing in systems to liquefy gas ready for export. Once completed, the terminal is expected to export nearly 20 million tons of LNG a year.
While there is great excitement to reap the benefits of this new extraction method, many oppose fracking due to environmental concerns. These include the risk of earth tremors, potential contamination of drinking water supplies, and the quality of regulation and the ability of authorities to enforce it.
Despite this controversy, US senators have called on the Energy Department to speed up its planned review process for proposals to ship US LNG abroad. Senators are worried that if proposals are not approved fast enough, the US will lose the ability to retain a competitive position against other natural gas exporting nations. The first approved LNG shipment is currently scheduled for 2015.
For more information, please read these articles from Reuters and BBC.
To learn more about global trade within the oil and gas industry, check out the eBook, Meeting the Global Trade Challenges of the Oil & Gas Industry.