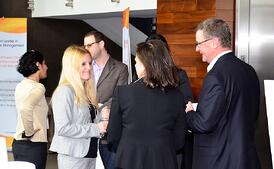 At a recent seminar, Financial Returns of Global Trade, hosted by Amber Road and Sandler & Travis Trade Advisory Services, Inc., Marianne Rowden, President and CEO of the American Association of Exporters and Importers (AAEI), spoke on many of the recent U.S. legislative and regulatory updates. She covered topics including the Customs Re-authorization Bill, Simplified Entry, the effects of sequestration, the Export Control Reform Initiative, the status of mutual recognition agreements, and the Food Safety Modernization Act.
Two areas of particular focus for Rowden were Customs' Centers of Excellence and Expertise (Centers), along with new C-TPAT proposed rules and their Privacy Act ramifications. These Centers will focus on industry specific trade issues and serve as an information resource for participating importers. By the end of 2013, ten Centers will be operational, including one for apparel, footwear, and textiles in San Francisco and a second for consumer products and mass merchandising in Atlanta.
"One of the goals of the Centers is to enhance enforcement and address industry risks," explained Rowden, who noted that 40 percent of respondents from their most recent benchmarking survey said they would participate in a Center, and 50 percent said their participation depended on the benefits of joining.
Rowden also commented on two Federal Register notices published on March 13th, one on a proposed records system for C-TPAT documents, and a second on Privacy Act exemptions to C-TPAT data. She expressed that the proposed records system "is not in the spirit of partnership. C-TPAT data is your proprietary data and the government has to respect the data. They have decided your data is not covered under the Trade Secrets act. The System of Records also violates the Safe Port Act."
To learn more about these regulatory and legislative updates, please join Amber Road and Sandler & Travis Trade Advisory Services, Inc. at the 92nd Annual AAEI Conference on Globalization: Policy & Practice.