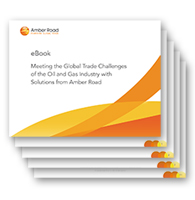 With rising global energy demand, the oil and gas industry faces a wide range of logistics challenges. Energy companies also have significant risks related to compliance from both an increasing volume of regulations and the complexity of product classification.
Amber Road's latest eBook, Meeting the Global Trade Challenges of the Oil and Gas Industry, examines the distinct challenges faced by today's oil and gas companies, and takes a look at ways a global trade management solution can help them succeed.
Click the button below to download the eBook.