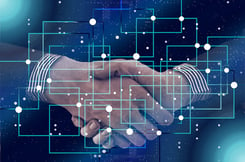 In the past two years, 'blockchain' has become one of the most powerful terms within the business realm. Today, 'blockchain' continues to be all the buzz and for good reason!
Blockchain provides encrypted and decentralized method of storing information and value giving it the potential to digitally disrupt a variety of industries. But what exactly does this mean for global supply chains?
Amber Road's brochure, Blockchain Goes Beyond Visibility to Supply Chain Transparency, explores the blockchain basics and the modes in which it is disrupting industries for the better.

What is Blockchain?
As a digitally distributed ledger technology (DTL), blockchain enables supply chain contacts to exchange authenticated data without the intermediation of a central organization. This allows the database of records, transactions, or events to be shared across all points on a organization's global supply chain. As transactions and events continue to occur, the blockchain retains a complete history while records are continuously updated in real time.
Transparency is one of blockchain's key benefits for the supply chain realm. The Blockchain Goes Beyond Visibility to Supply Chain Transparency brochure explores some practical examples in the following fields:
Food product transparency
Regulatory compliance
How can Blockchain be applied to the global supply chain?
As a provider of supply chain transparency software, Amber Road is constantly evolving to keep pace with new technological paradigms. Our solutions offer the benefits that the blockchain's transparency enables. As highlighted in the brochure, these capabilities include:
Track assets from production to delivery
Create decentralized, immutable record of transactions
Provide greater product history and transparency
Management of export licenses
Utilized in product testing & regulations
Download the brochure to explore the basics of blockchain along with the above examples in greater detail. Once you're ready to dig a bit deeper, check out Amber Road's white paper, "Blockchain for Supply Chain: Ghost in the Machine or Breakthrough Technology?" Co-authored by Dan Gardner, founder of Trade Facilitators, Inc.

This post was published on March 21, 2018 and updated on March 29, 2018.